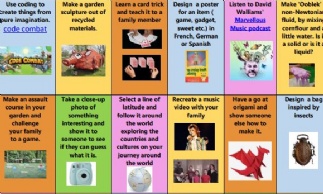 Half term activities to keep the whole family busy.
Why Don't You.....
A host of fun activities that the whole family can get involved in based around the skills of designing, making, researching, teaching and presenting. Students of The Minster School, can share the activities they complete via email.
See below for the attached document.
The Canal and River Trust bringing the magic of the waterways to you!
For now the Canal and River Trust have moved from a face-to-face learning programme to a digital one and are sharing activities that encourage children of all ages to watch, read, do, play and create as they learn about our canals and rivers from home – bringing the magic of waterways to you!
On the website there are a range of activities such as building a corridor of nature in your garden to a focus on family well being, well worth taking a look.
Raspberry Pi Foundation - coding at home
The Raspberry Pi Foundation have launched a new, free Learn at Home initiative to support parents and young people with coding at home. You don't need any coding experience to join in, and all of their resources and activities are free forever.

Every Monday, they release new themed code-along videos about projects designed for all levels of ability, and every Wednesday, they host a live coding session. They also provide support tutorials for parents interested in learning about coding tools such as Scratch and Python, and over 200 coding projects with step-by-step instructions that are accessible online at any time — all for free.
Sign up to start receiving free activities suitable to your child's age and experience straight to your inbox