Drama encourages students to investigate and explore issues through co-operation with their peers and the development and presentation of their ideas.
Drama also encourages students to develop their critical thinking skills and teaches them, particularly at GCSE level, about the art of theatre, thus enhancing their social and cultural experience. We deliver a balanced curriculum that offers students the opportunity to learn both through and about drama. Teaching encourages the exploration of themes and issues, as well as the techniques of drama and theatre as an art form.
Staff
Curriculum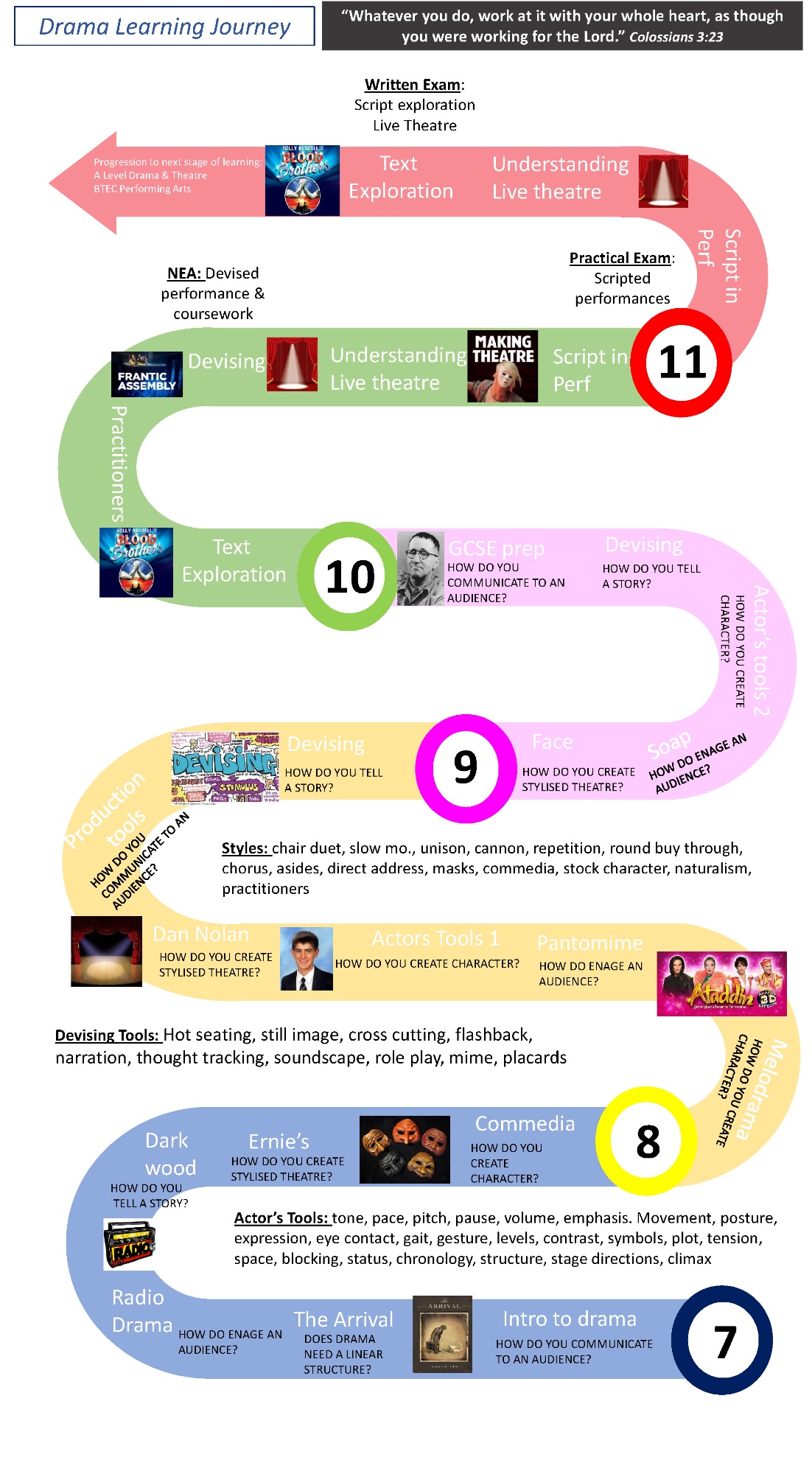 You can download a copy of the Drama Learning Journey for the Minster school below.
KS3
In year 8 and 9, students attend 1 lesson of Drama per week.
Visits and Events
Annual School Musical
Annual Drama Competition (alternating Shakespeare's Schools Festival and Connections)
KS3 Drama Club - weekly
KS4
At GCSE level, students attend 4-5 lessons per fortnight.
Board and Specification
Assessment Components
(June Year 10 – June Year 11)
| | |
| --- | --- |
| Component 1: Understanding Drama (Written Exam) | (40%) |
A written exam to explore a set text and to evaluate a theatre performance.
| | |
| --- | --- |
| Component 2: Devising Drama (Performance and Written Portfolio) | (40%) |
| Component 3: Texts in Practice (Performance) | (20%) |
Recommended Study Aids
AQA GCSE Drama by Annie Fox, Illuminate Publishing
Set text 'Blood Brothers' by Willy Russell
Visits and Events
'Blood Brothers' theatre visit, approximate cost £20.
Compulsory theatre visit for live theatre review exam, approximate cost £20.
Annual School Musical
Annual Drama Competition (alternating Shakespeare's Schools Festival and Connections)