English Language and Literature seeks to develop students' ability to become perceptive and critical readers who are able to understand and evaluate not only the ideas in texts but also the ways that writers use language, form and structure in order to express these ideas.
Students learn how to write creatively with particular emphasis placed on descriptive, narrative and persuasive writing and we also try to build students' confidence in becoming confident and articulate speakers.
Staff
Curriculum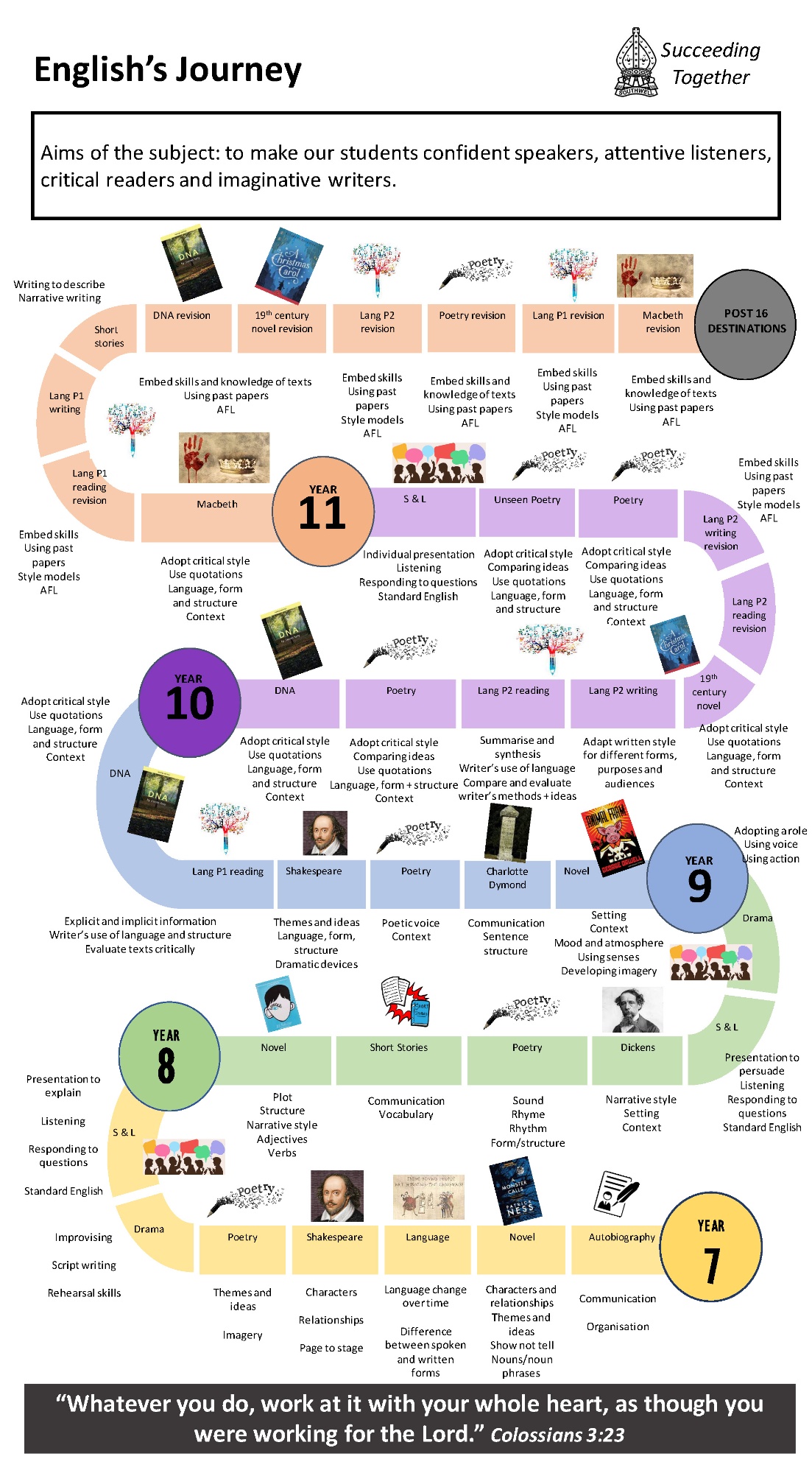 You can download a copy of the English Learning Journey for the Minster school below.
KS3
In Year 7, students receive 8 lessons of English a fortnight and study a variety of non-fiction texts, prose, poetry and drama. Students are given lots of opportunities for creative work as well as developing their ability to write clearly and accurately. In Years 8 & 9 students receive 6 lessons per fortnight and, as they progress, the skills they practise are increasingly designed to support GCSE work.
KS4
At GCSE Level, students receive 6 lessons a fortnight in Year 10 and 8 lessons in Year 11.
Board & Specification
AQA GCSE English Language
AQA GCSE English Literature
Assessment Components
English Language
| | |
| --- | --- |
| Paper 1: Explorations in Creative Reading & Writing (Written Exam) | (50%) |
| Paper 2: Writers' Viewpoints & Perspectives (Written Exam) | (50%) |
English Literature
| | |
| --- | --- |
| Paper 1: Shakespeare & the 19th Century Novel (Written Exam) | (40%) |
| Paper 2: Modern Texts and Poetry (Written Exam) | (60%) |
Recommended Study Aids
Students should buy copies of the Literature texts they study. This can be done independently or from Lowdham Bookcase who come into school to sell relevant books to students. Teachers will advise students which texts they are studying and when they will need them.
Visits & Events
Poetry Live, Year 11- approximate cost of £27.