Latest Updates for Parents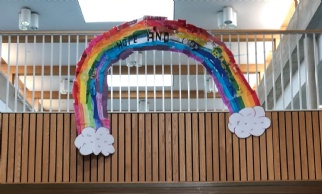 In this update: Hub Provision; Easter Holiday arrangements; Plans for Learning after Easter.
As always our thoughts are first with you and your families, hoping you are well and able to maintain some sense of normality. Our prayers and warmest wishes to you as we do our best to continue supporting you at a distance. We can't WAIT to bring the Minster community back together again.
It is appreciated how difficult it can be to keep pupils motivated and working from home over long periods of time and I know this has not been easy. However, your patience and resilience helps us in the background to continue planning for coming weeks when our work together will evolve.
The staff at Minster have not only been engaged with home learning but have also worked hard to develop the hub for Southwell, providing onsite education for vulnerable children and those of key workers - we are particularly pleased to serve so many NHS workers and their families. Teachers and support staff have unwaveringly worked with a small number of children from across our community onsite - those children deserve our kindness and support through the toughest of times.
There are three important updates for you today:
---
Remote learning
The first phase of our provision is coming to an end as we reach the Easter holiday. My thanks to you, the students and teachers for continuing with your efforts. The vast majority of students have been engaging well and liaising with staff for support as appropriate. Where students are not currently engaging with work set we will be working with the families to support them. From after Easter there will be some changes to the model of how work will be set to further support them in their learning. Here is an overview of the plan:
General point: Show My Homework and Email remain the core communication tools for teachers and students.
Year 7-9 : Learning continues in the current model for English, Maths, Science and MFL. Work will be set for individual lessons in line with your child's existing timetable. A more extended project and activity approach will be used in other areas.
Year 10 and 12 : Lessons will continue in order to support students on their exam courses. This will be set via Show my Homework. Students will complete a check point activity approximately every three weeks in each subject. This will inform teachers and students of their understanding of the work.
Year 11 and 13: We await clarity from Ofqual and the Department for Education with regard to qualifications; guidance is expected this week. This will influence what is done for year 11 and 13 students. There will be separate communication for this group.
Innovation with regard to broadcast lessons and the exploration of different technologies is happening in the background and will be increasingly integrated into the most appropriate areas of the curriculum in time. We recognise that in some areas access to the Internet is not easy and we will endeavour to ensure what we provide will be accessible for as many students as possible.
---
Easter Activities
The coming fortnight is the Easter holidays and no lessons will be set - students need the opportunity to do something different, although that is really difficult in lockdown! To help, we have made a set of "Why Don't You" (for those who grew up in the 70s you will understand the reference) ideas which we will send home to all families. These are in no way obligatory but should you be struggling for activities we thought it might help. Watch out too for some imminent Easter messages from The Minster School community.
---
Easter at the Hub
Our onsite provision for a very small and specific cohort of pupils will continue throughout the Easter period including bank holidays. We are determined to provide this important service for those working hard to stem the spread of the Coronavirus and for the most vulnerable. My particular gratitude for so many staff willing to give their time freely to achieve this aim. This provision can be booked HERE through the new Hub area of the website.
---
There is additional information on the new Hub area of the website for you as parents with regard to keeping safe and well and supporting home learning. Ideas are added frequently for you to dip into and this facility should be live from today. www.minster.notts.sch.uk/minsterhub
With thanks to you all for your patience, support and kindness. Please keep well.
Matthew Parris
Head Teacher, The Minster School