Essential Reading for yr 10 & 12 Families - Onsite Provision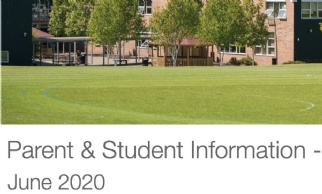 Update with detailed information about the partial return to school for year 10 and 12 students. The associated agreement must be completed before students can return.
I would be grateful if all year 10 and year 12 parents /carers and students could watch the video below, read the relevant guide carefully and, if intending to use the onsite provision, complete the home school agreement and registration form.
The provision (beginning in the week of Monday 15th June) is not compulsory and it is for each family to decide whether they would their child to return to school. There are no fines or sanctions for non-attendance.
When students visit the site they will receive support from subject-specialist teachers to help with online learning at home, which will also continue. The onsite revision doesn't replace home learning, rather it supports it.
Registration is open from 9am every Monday until 5pm every Wednesday to join the onsite provision from the following week. Families can choose to join the provision at any stage and need only register once.
Any student not registered will be unable to access the onsite provision.
"Hub" provision for the children of key workers and for those who are more vulnerable remains available on a daily basis and can be booked through the Hub area of this website.
Please be assured that extensive adjustments have been made to the school site, as detailed in the guides. Our priority is to support the learning of year 10 and 12 students onsite while maintaining the highest standards of hygiene and social distancing. The health of the whole Minster School Community is fundamental to our plans.
With thanks for your ongoing support, in particular with these new ways of working.
Video briefing from Mr Parris. Guides (below) should also be read.