Weekly Update 7th December 2020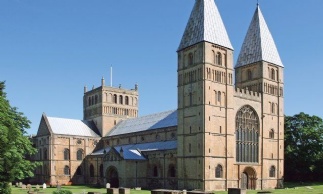 Update including apprenticeship event, exams, junior school admissions and the end of term
Dear Parents and Carers,
As we enter the last two weeks of term there is a real sense of Christmas in the air. This morning I went to the cathedral to film our Christmas service. Every year we take students across to the Cathedral for the service but this year, you will find it to not be a surprise, that the service will be held online. I know that filming is underway within the music department for the Christmas concert too. You will have had an invite to join us in the viewing of it on You Tube next Thursday evening. For those of you new to the school, or who do not normally attend our concerts, please do have a watch. Last week we broadcast our foundation service – a service that reaffirms the historic foundation between The Minster School and the Cathedral. If you would like to view this then you will find it available at www.minster.notts.sch.uk/foundationservice .
Covid-19 update
On Friday we had a further confirmed case of Covid-19 within our school. The individual concerned was already self-isolating after being identified as a close contact outside of school. They had not been in school for the 48 hours before symptoms developed or since symptoms developed consequently there are no close contacts to identify in school.
Apprenticeship Information Event – Wednesday 9th December 2020, 6.30-7.00pm via Zoom
On Wednesday 9th December we are hosting a live virtual apprenticeship information evening for students and parents who would like to learn more about apprenticeships. This is particularly targeted at students in years 10, 11, 12 and 13. A speaker from ASK Apprenticeships will give a brief presentation, followed by a Q&A session about apprenticeships and related careers.
If you would like to attend this event, please submit your details using the link below and we will share an invitation to the event with you. https://forms.office.com/Pages/ResponsePage.aspx?id=UV2y8YljBkW5U3eUuqe8iAvyFwpY45VOqC7NE3nEoLtUQlYzWVdFQzJNQ09QNU04TEhJNThFT1VSTi4u
Exams update
On Thursday the government published guidance in light of the summer exam series for year 11 and year 13 and the SAT tests for year 6. The government have reaffirmed that it is their intention that these exams will continue. They have outlined some adjustments and alterations that will be made. You can read about these at: https://www.gov.uk/government/news/extra-measures-to-support-students-ahead-of-next-summers-exams?utm_medium=email&utm_source=govdelivery
and
https://www.gov.uk/government/publications/guidance-to-support-the-summer-2021-exams?utm_medium=email&utm_source=govdelivery
The Minster School will continue to best prepare your children for these exams.
Junior School Admissions
The Minster Junior School caters for students in years 3, 4, 5 and 6 who demonstrate that they have musical aptitude. The admissions window is currently open for students who will be commencing year 3 in September 2021. If you would like further details, or know of families who might be interested, then please direct your enquiries to https://www.minster.notts.sch.uk/joiningourjuniorschool where you can find the prospectus, videos and further details.
Christmas Jumper Day
On the last day of term, we will be holding our annual Christmas jumper day where we replace our blazers with our Christmas jumpers. There will be a bucket collection on arrival where students can donate £1 for The Teenage Cancer Trust and for Ward E39 at The Queens Medical Centre. ​This cause is close to The Minster School with students and staff members children receiving treatment there.
As part of the Teenage Cancer Trust's fundraising campaign, Sophie from year 10 has shared her story. It is viewable here https://youtu.be/aIXTARQYZXc​
​Not everyone has a Christmas jumper and there isn't an expectation to get one especially for the last day. As in previous years students can wear their blazers instead of replacing it with a Christmas jumper and donate to the collection if they wish to do so.
Last Day of Term
The last day of term is Friday 18th December. School will close early with the staggered departure times in place from 12:45pm. Buses will be available to transport students home as normal and will depart at 1pm. We reopen to students after the holidays on Tuesday 5th January 2021.
Warmest wishes,
Ben Chaloner - Head Teacher