Weekly Update 8th March 2021
Welcome back and Parent Governor election
Dear Parents and Carers,
There has been a positive vibe in school today as we began to reopen after this period of lockdown. Year 11 and year 13 have had their first Covid-19 test and year 11 began face-to-face learning once again. It was clear that students had missed being at school and were pleased to be back. Tomorrow we will test year 10 and year 12 and by the end of the week all students will be back in school.
During the testing process students do have to wait outside until a negative test is confirmed. The lateral flow device can only be read after 30 minutes so there is some time waiting. Having looked at the weather forecast for the week there is a chance of heavy showers and wind. Please do support us by ensuring that your child has a coat and/or an umbrella.
Parent Governor Election February/March 2021
We have received four nominations for the position of Parent Governor. As there is only one vacancy an election has been called.
The ballot will be conducted electronically with voting forms distributed via email on Tuesday 9th March 2021. All parents/carers who are entitled to vote will receive an email with a link to our confidential voting system, example below. Each email address will receive a unique code which is built into the 'vote now' button on the email. As a result of these codes being unique and randomised, we are unable to identify individuals and their vote. If you do not receive this email, or do not have the facility to vote online, please contact school.
All votes will need to be cast by no later than 10.00 a.m. on Tuesday 23rd March 2021. Votes received after this time will not be counted.
The email you receive will look like the below: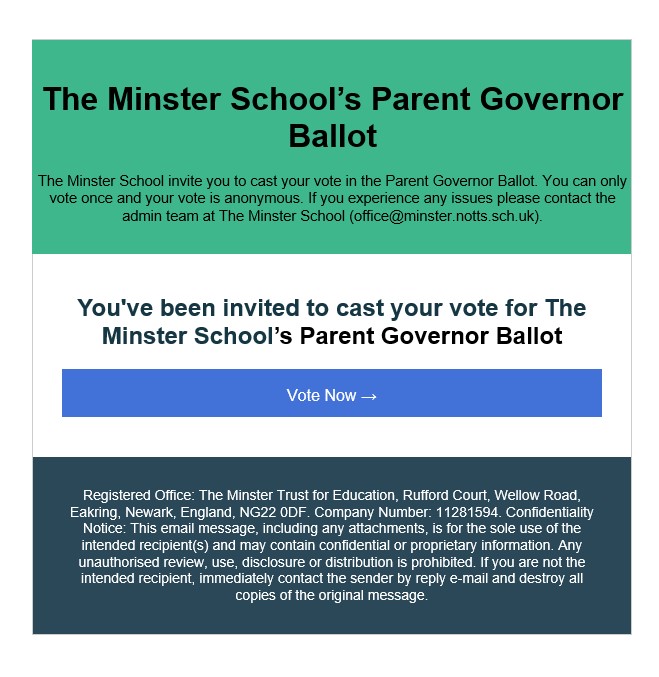 Many thanks
Mr Chaloner - Head Teacher