West Side Story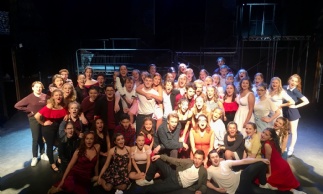 This year's annual show was an incredible production of West Side Story, celebrated by audiences and external critics as one of the best amateur productions they had ever seen.
The incredible breadth and depth of talent at the Minster School meant that, once again, the show was double-cast for many of the leads and all performers demonstrated the highest standards of singing, dancing and acting.
The quality of staging and production matched that of the performers and the sold out show received rapturous applause at the end of each of the 7 performances. The challenging Leonard Bernstein score was played with great professionalism and musicianship by the student orchestra, who had spent many months preparing - it certainly paid off!
Congratulations to all involved and thank you to the incredible performing arts team in school for once again achieveing such excellence.