minster's election result...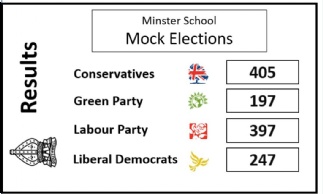 On General Election Day students at the Minster School participated in their own election, with results not quite so clear cut as those nationally....
While the Conservative party won the most votes, it was close-run with Labour just a few votes behind in total.
"Seats" won were considered by house and year group, with year 8 bucking the trend as staunchly Labour, while other years predominantly voted for the conservatives. The Junior School demonstrated their environmental credentials with a vote for the Green Party.
With thanks to Mr Wall for organising the election and giving students the opportunity to experience the democratic process.