UK Bebras Computational Thinking challenge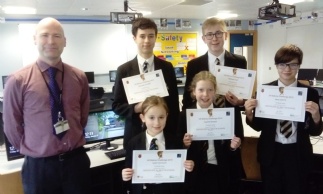 Students at The Minster School performed exceptionally both at county and national level with our Junior & Senior categories achieving results considerably above the national average.
Before Christmas students at the Minster took part in the BEBRAS computational thinking competition which is sponsored by Google, and run by the Department of Computer Science at Oxford University. ​The BEBRAS challenge is an online, international competition based on problems that Computer Scientists often meet and enjoy solving.
Alexa Watts did well achieving a score of 184 out of 200 which placed her 1st in the county out of 1,330 & 65th out of 79,986 nationally from the Juniors category.
Pictured with Mr Lang are the students who were awarded 'Best in School' certificates:
Kits: Isobel Stevenson (Junior School)
Castors: Scarlett Almond (Junior School)
Juniors: Alexa Watts (Year 7)
Intermediate: Alexander Rushby (Year 9)
Seniors: Matthew Clark (Year 11)