Maggie's Cabaret Sensational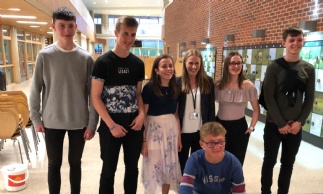 On Thursday 7th June a packed theatre audience enjoyed a cabaret concert organised by a group of year 10 students, all members of the bereavement group. The fundraiser was a terrific success, making £1200 for Maggie's Centre, a cancer charity based at Nottingham City Hospital.
The group of students, supported by Mrs Baker, arranged the event and recruited students from across the year groups to perform. As always, the range and standard of performance was superb and the event ran like clockwork. Congratulations to Gracie, Josh, Nathan, Drew, Alfie, Amber and Mrs Baker - a triumph!