Farewell Year 11 and Welcome Year 6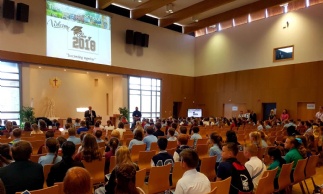 A busy week celebrating with our year 11 students as they officially complete their main school experience. We are looking forward to welcoming many back for their 6th form studies next year. As we celebrated with year 11, we also welcomed year 6 students and their parents/carers to the Minster Family at several induction events.
A busy week at Minster School began with our year 6 induction day. Soon-to-be year 7 students joined the school community for the day on Monday, with the opportunity to meet their tutor, experience some lessons in science and computing and hear from key staff about life at the Minster School. They also had the chance to meet the rest of their teaching group and to tour the buildings. It was a pleasure to see so many smiling faces at the end of the day, with a palpable sense of excitement and anticipation for the year to come.
On Tuesday we welcomed back our departing year 11 students for a celebration assembly and shirt-signing, followed by the year 11 Prom later that evening. A highlights were the photo slideshow (including some historic photos from earlier in their school career) and the staff video to wish the students good luck. Catch the clip on You Tube...