Farewell and Good Luck to Y6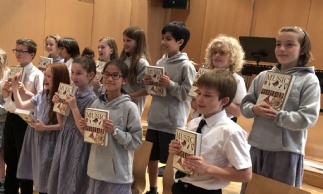 Parents and families joined Mr Burns, Mrs Britten and Junior School pupils for a special celebration marking the end of primary school for year 6.
Each of the year 6 pupils addressed the audience with recollections of their time in the Junior School and their hopes for the future. Interspersed with the amusing anecdotes were performances demonstrating the musical (and juggling!!) talents of the pupils. The assembly ended with the awarding of Music Encyclopaedia by Mr Parris as a memento of the pupils' time in JD.
Good luck to all for the future, we are looking forward to welcoming most back next year for year 7.