We Will Rock You First Class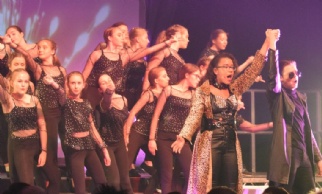 On 10th and 11th July an enthusiastic and talented cast rocked the main hall with their performances of We Will Rock You, including a plethora of Queen's greatest hits.
The staging included the use of video and stadium lighting to great effect and the band offered excellent support, demonstrating the highest levels of musicianship.
The on-stage case were outstanding and demonstrated great enthusiasm and depth of talent. Particular mention to the principals who all acquitted themselves incredibly well, delivering powerful performances of well known standards. As always, the students of the Minster School show what a talented bunch they are, with the show double cast.
Congratulations to all involved and thank you to the staff who worked hard to make the show such a success, in particular Mrs Chapman as Director and Mrs Wallis-Windle as MD.