Clumber Victorious !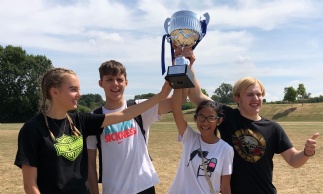 The Minster School year ended today with a day full of games and sports, concluding the House Competition. Congratulations to Clumber who were victorious and raised the trophy to rapturous applause.
Today students participated in wide-ranging activity, from football to circus skills, concluding with the House relays and the staff race. The competition this year was fiercely contested and it all came down to the last few events today, but ultimately Clumber held on to their lead.
During the year the Houses have raised thousands for charities, celebrated student achievement, built a strong sense of community and encouraged healthy competition through many events. Thanks to all who make the House system such an important part of school life.