Fantastic A Level Results !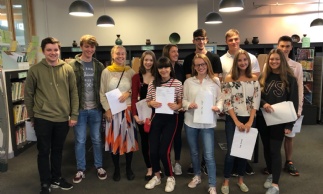 Minster School students, staff and families are celebrating today having received their A Level results. The school achieved some of its best results ever with students achieving an average of a grade B in the A Level exams.
Of the more than 180 students completing their final school exams, more than 40% achieved 3 grades A*-B and 73% achieved 3 grades A*-C. These are some of the best results ever achieved at the school and students and teachers deserve congratulations for their efforts.
Early indications of the value added by the school shows a considerable proportion of students did better than predicted and beat their targets. This has meant that a significant majority are now looking forward to making the transition to higher education, mostly at their first-choice Universities.
In 2018 the Minster School has 5 students beginning their Oxbridge studies in September, namely Scarlett Clemmow (Music), Ben Jackson (Medicine), Eve McMullen (History and Politics), Rosa Phelps (Modern and Medieval Languages), Meghan Swarbrooke (Philosophy, Politics and Economics) – congratulations to them for the considerable efforts they have made to study at the some of the world's finest Universities.
An impressive 27 students achieved at least A grades in all their subjects, with some going even further to achieve a clean sweep of A* grades in all their subjects. Particular congratulations to Eve McMullen, Annie-Mae Wright, Ben Jackson, Rosa Phelps, Isabella Lukic and Meghan Swarbrooke, our straight A* students.
Every year a group of students is voted in by teachers and their peers to act as the school's "Head Team". These students go above and beyond to represent the student body and the school at wide-ranging school and community events. The team also organise events for the 6thform. This year the team, consisting of Ben Jackson (Head Boy), Annie-Mae Wright (Head Girl), Rosa Phelps (Deputy Head Girl), Patrick Bolsher (Deputy Head Boy), Rebecca Pritchett (Deputy Head Girl) and Sikander Khan (Deputy Head Boy) also achieved a record-breaking set of exam results as a team, with no less than an A grade achieved in any qualification. Well done to all and thank you for all your contributions to the wider life of The Minster School.
Mr Parris, Head Teacher said : "These fantastic results are a testament to the efforts made by teachers and students, supported by families. Succeeding Together is our school motto and this has been demonstrated to great effect today. Congratulations to all, with very best wishes for students embarking on their next chapter."