Prize Giving Celebrates Student Excellence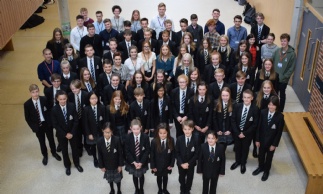 On Thursday 13th September families, teachers and supporters of the school all convened to recognise the considerable and varied successes of our fantastic students.
Prize giving is an important event in the school calendar, recognising the school's long heritage but more importantly the quite incredible students who strive for excellence and represent our school values so impressively.
Each year it is a particular pleasure to celebrate with students departing the school for pastures new, many leaving just days later to begin their University studies. Equally, younger students winning prizes will, it is hoped, be inspired to strive for the top prizes in years to come.
This year we are grateful to Sir John Peace for presenting the prizes and sharing his thoughts on the value of education in the modern era. We at the MInster School congratulate every prize winner and send very best wishes to those starting their next chapters...