Walesby a hit with new Year 7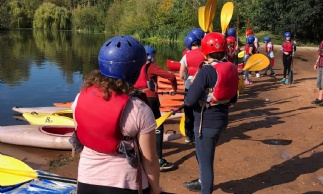 More than 240 year 7 students enjoyed an overnight adventure with their House as part of their school induction.
Each House group spent two days and one night at Walesby Outdoor Centre, participating in a range of adventurous activities including canoeing, rafting, team building and a low ropes course. Each of the four houses (Clumber, Rufford, Thoresby and Welbeck) were supported by year 11 house captains, who did a fantastic job looking after the younger students and leading rounders, football and other games.
Thank you to all the staff who accompanied the trips. Year 7 students have subsequently talked about the new friends they have made and the memories they will keep for many years to come.