New-style Foundation Service a success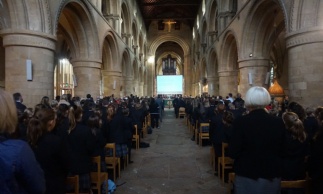 On 17th October together we celebrated our long heritage and the excellent education provided for many years by the Minster School.
A new approach to our annual foundation service this year brought together staff, students and families in a celebration of the relationship between school and Southwell Minster. All staff and year 7 participated in the service, during which we reaffirmed our commitment to support the very best education for our students. The cathedral choristers performed a beautiful anthem and year 7 all sang a round of the spirituals. Mr Parris shared an interesting potted history of the school, including tales of bad behaviour from the 17th Century!