Christmas Concert in Southwell Minster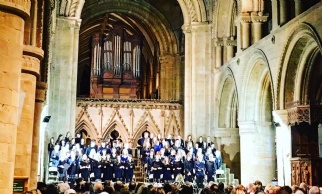 The Minster School Christmas Concert was a festive treat and wonderful way to celebrate the end of a successful term. More than 100 students performed in a packed programme.
Our Christmas concert saw more than 100 students perform in the splendid surroundings of the Cathedral, with a wide range of musical genres represented in the programme. Particular highlights included Apollo 13 from the Orchestra, some beautiful string playing, festive pieces from the Chamber Choirs and the Full Choir and a rousing rendition from the concert band.
The concert concluded with the Jazz Band who were joined by vocal soloists and finally a congregational carol (Hark the Herald Angels Sing) to draw the evening to a close.
Thanks to the MSPTA for the refreshments at the interval and for all who supported the concert in a packed cathedral. A particular mention on this occasion to Mrs Wallis-Windle who has led the music department to excellence over the past 4 years and is departing for her maternity leave very soon. We wish her well and thank her for her service.
Photo by Nicholas Benjamin