PARENTS' 80'S NIGHT WILL BE A FUNDRAISER!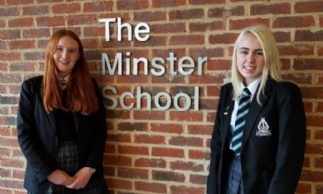 Year 11 students Ella and Sarah will be hosting an 80s Disco for over-18s on Saturday 23rd March, starting at 7.30pm at the Minster School. This will be the girls' first event to raise funds to enable them to volunteer in Cambodia, South-East Asia for 4 weeks in the summer of 2020. The evening will include live music from the excellent Thunder Chunky covers band, an 80s disco, licensed bar, local food and a raffle. Fancy dress is optional.
Tickets cost £10 per person and include a welcome drink; and are available via www.southwell80snight@gmail.com or at the school's main reception.
Cambodia remains one of the poorest countries in the world. Food shortages and lack of employment leave rural young people very vulnerable to continued and increasing poverty.
Sarah and Ella will be joining other Minster students in the volunteering expedition with Camps International, which is an organisation that enrols young adults to help reforest damaged parts and build homes and schools.
Ella said of the expedition; "I'm preparing myself for the mattress and mosquito net bed, the composting toilet and the cold-water bucket showers, but I'm sure the overwhelming sense of helping others will make these worries disappear instantly when I get there and get into it".
Sarah says, "We are learning useful skills in preparing for this fundraising event, which we are sure parents and others in the area will enjoy. It is great that all the profits will go towards such a worthwhile project".