Continuing Professional Development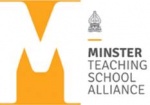 The Minster Teaching School Alliance offers a range of school-based Professional Learning opportunities to meet the needs of schools within the Alliance. Programmes on offer now include the Improving Teacher Programme, Outstanding Teacher Programme, Developing Skills for Middle Leadership, National Professional Qualification for Senior Leaders and the nationally recognised and accredited Leadership for Chairs of Governors Programme as well as a range of primary and secondary networks.
It is important to the Minster Teaching School Alliance that any Professional Learning offer should have clear links and opportunities for formal accreditation or school-based research opportunities for practitioners; many of our programmes offer Masters level projects and accreditation.
As a Teaching School Alliance it is our aim to try and meet the needs of our members, so if there are any areas you would like to develop in school that we do not currently offer, please let us know.
For further information or if you have any questions please contact Trish O'Malley, Teaching School Administrator, p.omalley@minster.notts.sch.uk tel 01636 817 318