Learning Resources
Supporting Remote Learning
Welcome to the area of our website dedicated as a remote learning education hub, offering support and guidance with links to relevant information and resources.
General ideas
Resource
Details

Daily lessons coming soon

Beginning Monday 20 April, BBC Bitesize will publish daily online lessons for all ages. We'll also have a new dedicated TV channel full of learning content, podcasts on BBC Sounds and loads of educational video on iPlayer. www.bbc.co.uk/bitesize

PE workouts with Joe Wicks on YouTube. Daily at 9.00am

www.youtube.com/playlist?list=PLyCLoPd4VxBvQafyve889qVcPxYEjdSTl

Useful advice from Dragonfly education about sustaining and structuring home learning during the school closures. Click here
Parent and children learning plans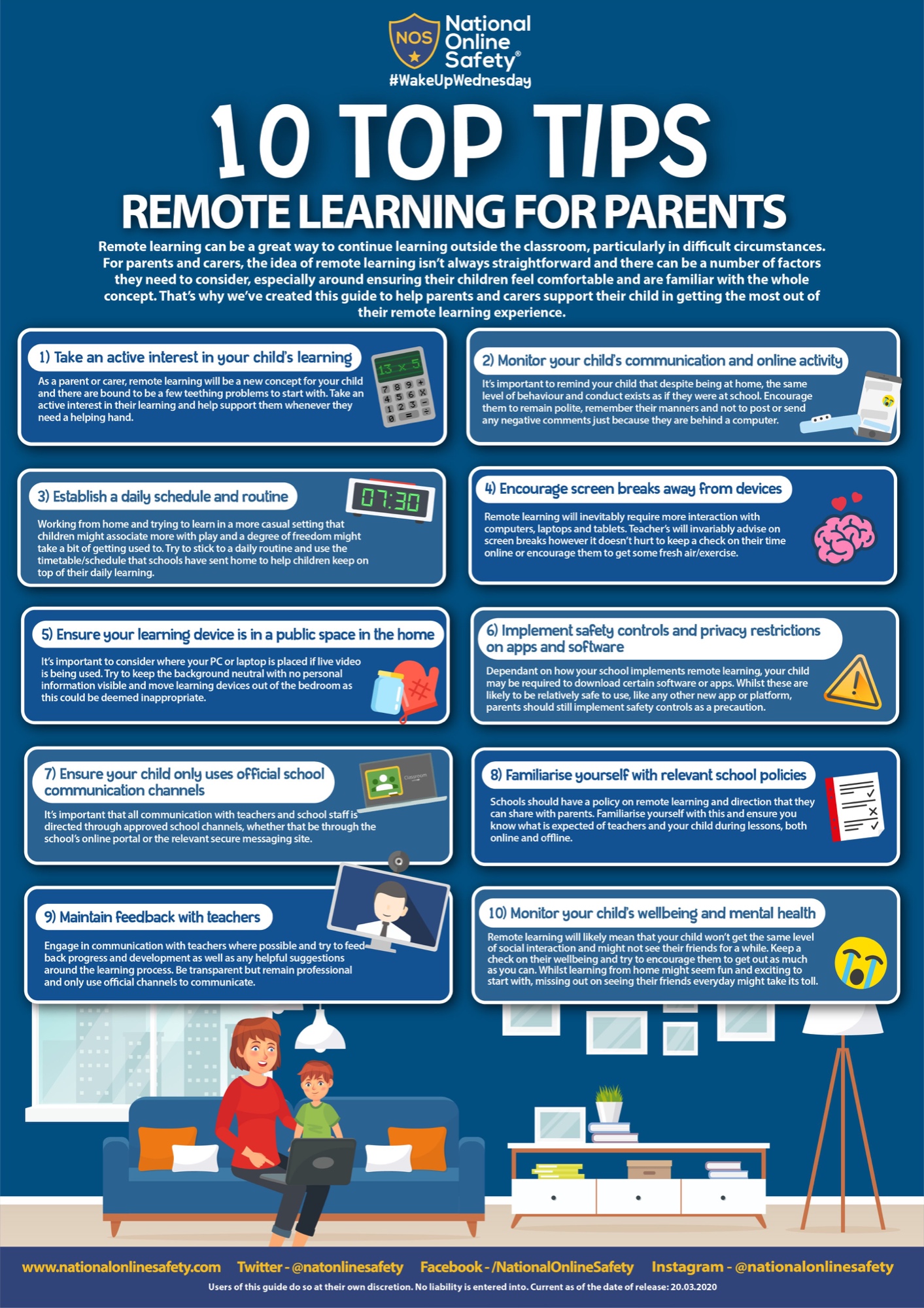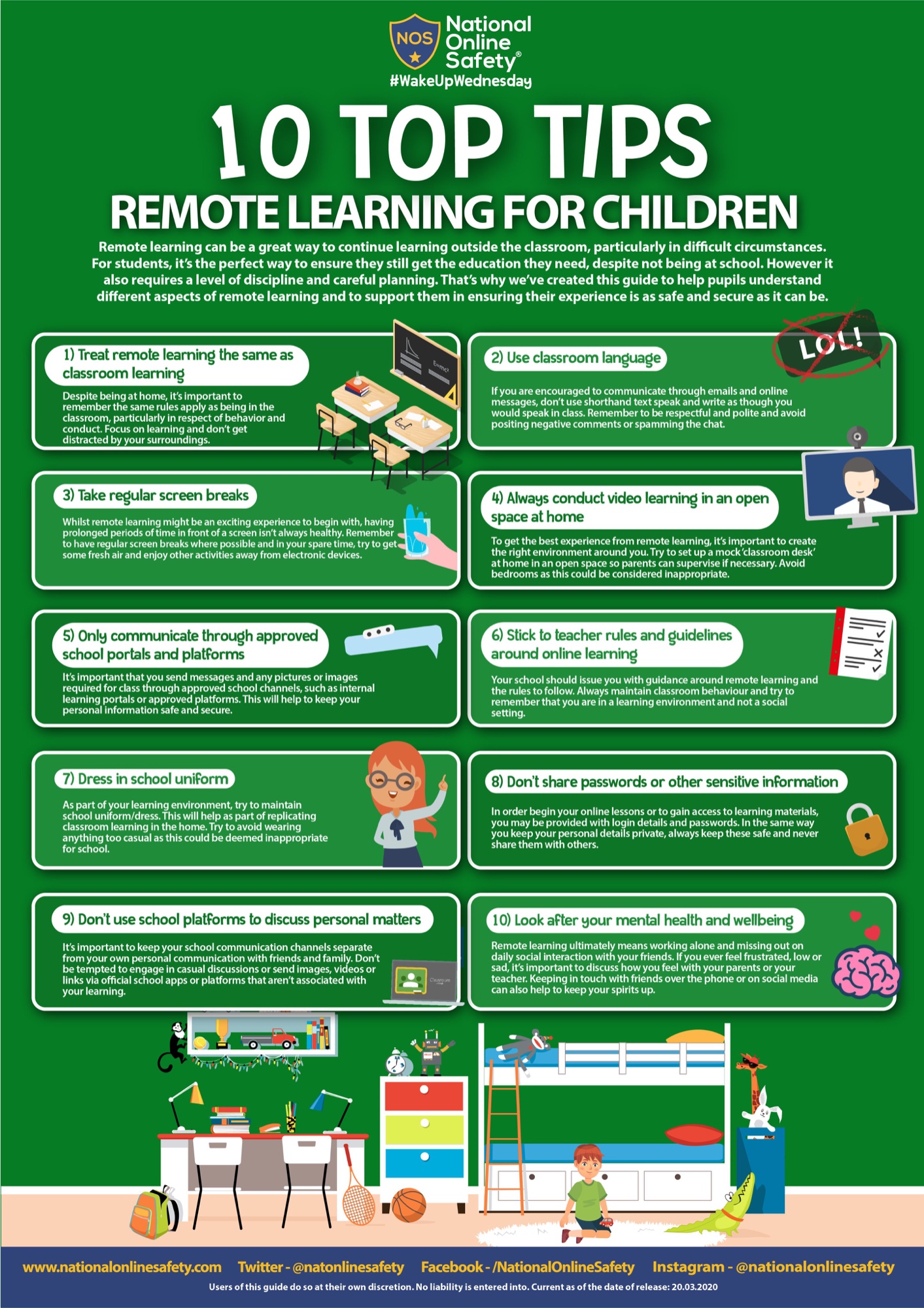 Opportunities for Home Learning - regular updates
Minster School Home Learning
Work is being set for students through Show My Homework and by email.

Up until Easter this is on a lesson by lesson basis but will be moving to a more diverse approach after the holiday as follows:
| Year Group | Learning |
| --- | --- |
| Junior School | Work will continue to be provided to parents by Mr Burns and Mrs Britten. They can be contacted by email : r.burns@minster.notts.sch.uk s.britten@minster.notts.sch.uk |
| Years 7, 8 and 9 | Learning continues in the current model for English, Maths, Science and MFL. Work will be set for individual lessons in line with your child's existing timetable. A more extended project and activity approach will be used in other areas. |
| Years 10 and 12 | Lessons will continue in order to support students on their exam courses. This will be set via Show my Homework. Students will complete a check point activity approximately every three weeks in each subject. This will inform teachers and students of their understanding of the work. |
Staff are working in the background to innovate using technology and broadcast lessons and these will increasingly be incorporated into our provision. We recognise that in some areas access to the internet is not easy and we will endeavour to ensure what we provide will be accessible for as many students as possible.
A number of key resources can be accessed via our school dashboard here: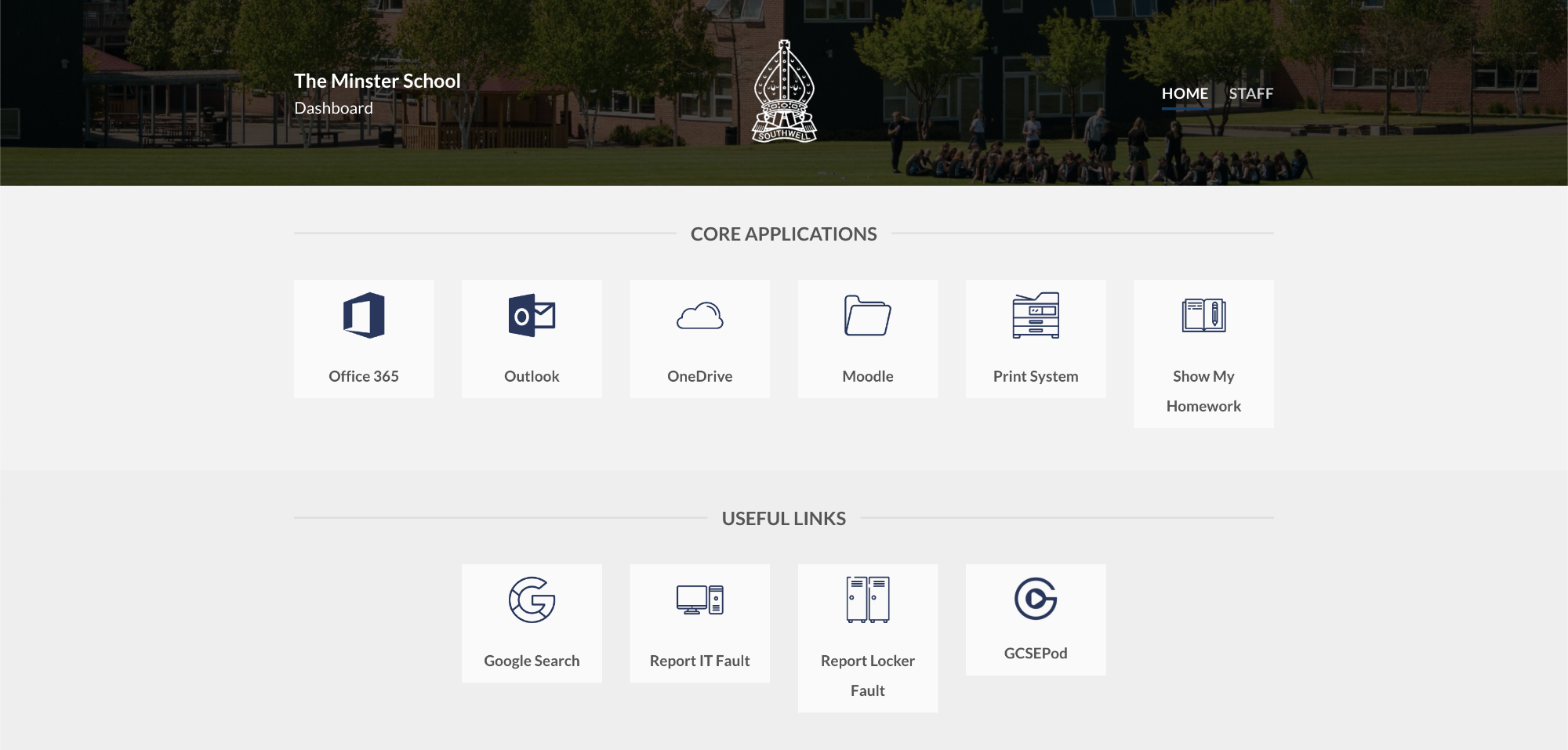 Further links also include:
| Software/Website | Use | Link |
| --- | --- | --- |
| Microsoft Teams | Communication tool with teaching staff and students | |
| GCSE Pod | Educational resources | |
| BBC Teach | Curriculum videos arranged by age group and subject | |
| PE with Joe | A free daily home workout aimed at children, Monday to Friday at 9am | |
Please contact individual teachers or curriculum team leaders for support with specific home learning tasks.
Mr Wall and Mr Chaloner are leading the development and provision of home learning during the school closure. Please contact a.wall@minster.notts.sch.uk
Technical support is available through ITsupport@minster.notts.sch.uk
Primary Home Learning
Included below are a number of useful general resources.
| Software/Website | Use | Link |
| --- | --- | --- |
| BBC Teach | Curriculum videos arranged by age group and subject | |
| Oxford Owl | Learning at home activities (primary) | |
| Scratchjr | Introductory coding and programming - free app (primary) | |
| TTS Group | Free home learning resources for Early Years, KS1 & KS2 | |
| Wordpress | A nurse dotty book to help the youngest children understand the current situation | Nurse Dotty Coronavirus story |
Lowe's Wong Juniors
On the school website, there is a list of activities and links to help supplement the activities given.
https://www.loweswong-jun.notts.sch.uk/class-pages-1/
*Please then select your child's Year Group
If you have any questions about the work your child is doing please use one of the following email addresses:
Farnsfield St Michael's
At Farnsfield we have set each child up an account on Microsoft Teams and are using this as a platform to share ideas for home learning including sharing files. Parents have the access in KS1 and in KS2 the children are accessing it themselves.
For those who need other resources or are struggling to access provision please contact individual class teachers by email.
Halam
We want children and families to remain safe. We know that not all families will be able to do at home learning. We have suggested learning activities which are appropriate to your child's age, however parents may choose to extend or simplify these to meet their own child's needs.
Each teacher is posting an activity pack for their class on their class pages of the school website.
Visit www.halam.notts.sch.uk
These are updated each Monday morning. Parents and children can communicate with their teachers through the school email. We are just about to relaunch Purple Mash (Monday morning) which will give teachers and children opportunities to share their work and ideas.
Bleasby
BLEASBY C OF E PROVISION FOR CHILDREN WHO WILL BE AT HOME DURING THE SCHOOL CLOSURE 20.3.20
Dear Parents and Carers,
We thank you for your support over these last few days. Below are details of how we plan to provide learning challenges for your children during this period of school closure. Each class teacher will share the following on the class page or in writing for those who need it. Teachers will update their class page weekly and/or email parents directly. There will be:
Weekly and daily Suggested timetable of activities
Success criteria for writing- This is so parents know what the national expectations are for that year group of for their child's writing
Success criteria for Mathematics - This is so parents know what the national expectations are for that year group of for their child's mathematics
Science web links and activities
Maths web links and activities
English web links and activities
Topic activity ideas
Exercise book for your child to do their work in and stick any worksheets in
I will continue to write a weekly newsletter. Please send me pictures and articles to put in it. We will do our best in this time away from school to ensure your child sustains their learning and makes progress. We value the support we know you will give. We are also planning some additional e-learning support. We will be setting free accounts up on the following websites and providers. These are proven excellent learning resources they have either been used by staff at other schools or come highly recommended. Please let me know directly by email if you DON'T want your child to have an account. The sites are https://www.prodigygame.com/ and https://mathswatch.co.uk/
Thanks
Mr Samuel Mensah (Headteacher)
Kirklington and Averham
All pupils have received a pack containing new CGP work books relevant to their age, a blank writing book and some reading books. They have had guidance on the types of creative activities they can do at home and "mathletics" is accessible to all online. Teams logins have been shared with families, through which we will be sending activities three times each week initially and making contact with the children in their class.
Holy Trinity Infants and Caunton Dean Hole
At Trinity and Caunton we are setting activities and communicating with pupils/parents mostly via Class Dojo, and also through email communications.
Pupils are being further supported with physical resources sent home and with online learning through Purple Mash and other online sites. Class Dojo videos are increasingly being used for Story Time and PE, for example.
Our teachers are checking in with their classes daily at the moment and suggesting work/activities on a daily basis. We encourage families to consider their own situation and needs when engaging with the activities provided - your well-being is important.
Questions to individual class teachers please.
Lowe's Wong Infants
We are sending out activities and challenges for children which can easily be completed without the need to print work out. You should receive emails and/or texts to keep you up to date with the activities.
Please contact individual class teachers by email if you are having any difficulties or need support.

Minster School
Farnsfield St Michaels
Minster School Performing Arts Department
Minster School PE Department
Minster School Learning Support
Minster School DT
Food Practical Step by Step Demonstration