Ready For Minster?
Explore this page to find out as much as you can about The Minster School and what to expect. If you have any questions you can send them to Mr Brookes. He is the Head of Key Stage 3 who looks after new students along with a team of experts, most importantly Miss Sanderson (Pastoral Lead for Year 7). Why not visit our Frequently Asked Questions section to find out more about life at The Minster Schoo.
Our Ethos
At The Minster School we are always "Succeeding Together". This is our school motto and it is inspired by a quote from the bible.
"Whatever you do, work at it with all your heart, as though you were working for the Lord."
colossians 3:23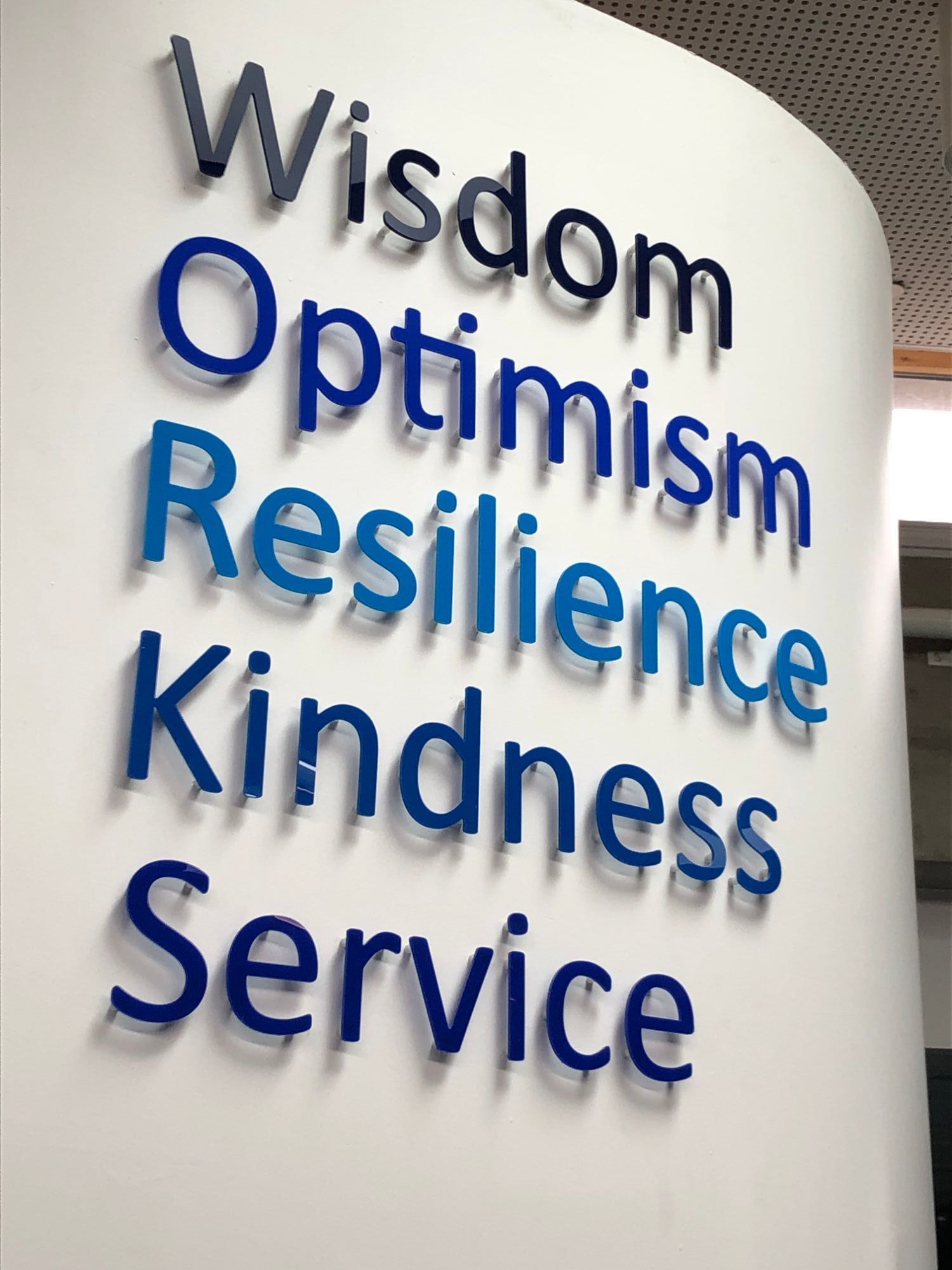 Succeeding together means we help all members of our school community to work together, care for each other and realise their potential in their studies and all other aspects of life.
To help us do that and to create the best community we can in and out of school, there are 5 virtues we think about and aspire to every day.
Watch the Ethos video on our YouTube channel to find out more about what those virtues mean and how we live every day succeeding together at The Minster School.
Videos
Visit our YouTube channel and subscribe to find out more by watching our year 7 Transition videos. This includes what year 7s really think, more about our ethos, a tour of the school and the chance to meet some key people.
Take the website challenge...

Can you find the answers to all these questions? Everything you need to know is here on the website. By seeking them out you will visit lots of different areas and find out a lot more about The Minster School.
Some answers are really easy to find and others are more tricky... Don't give up and keep looking, even inside some download documents.
Are you a good enough detective to find them all??? Click on the picture below to download a printable copy of the challenge so you can scribble your answers as you go.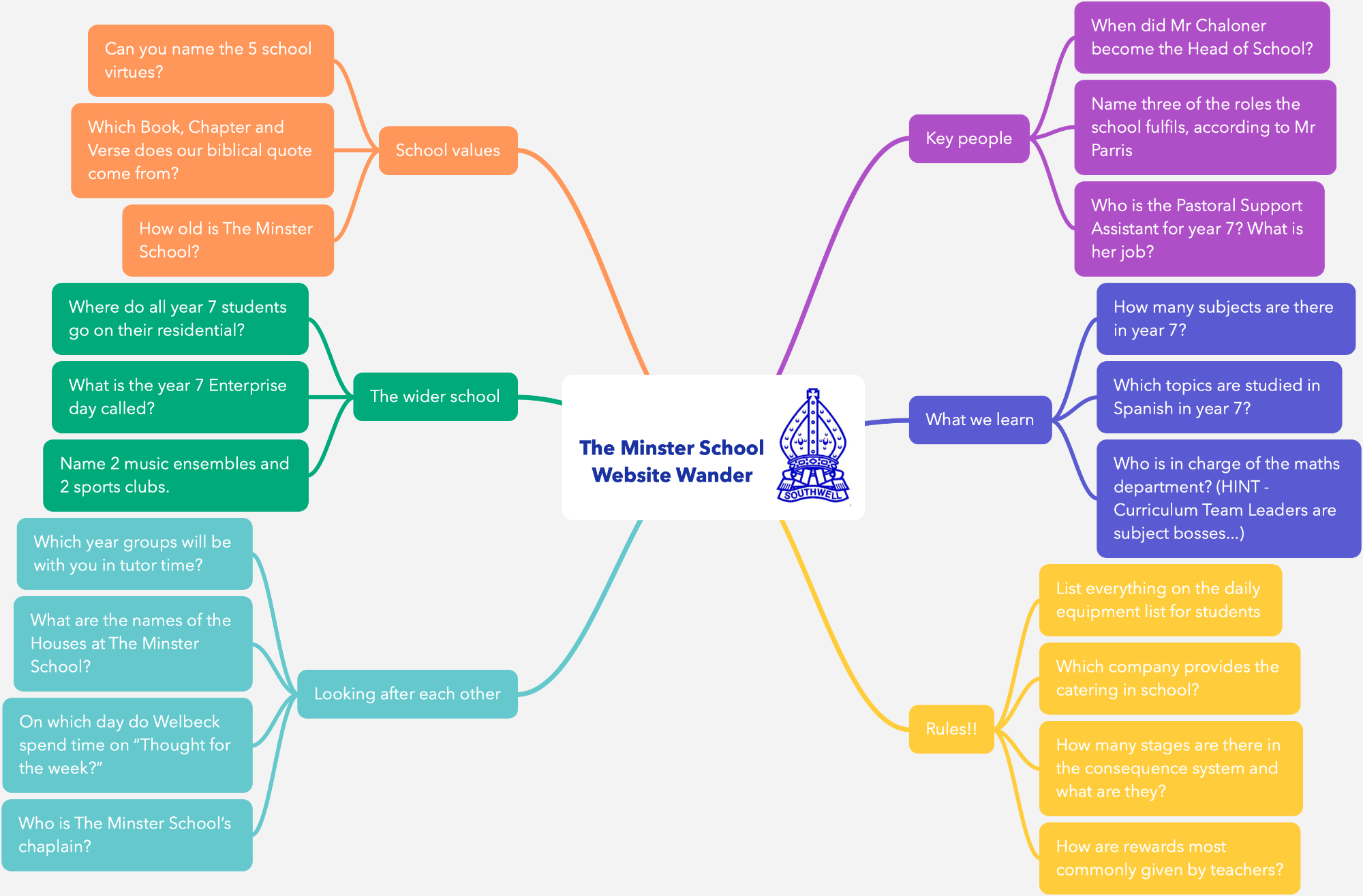 Other tasks for you to complete
Our Induction Booket has lots of information to help you get to know the school. Set aside some time to have a good read and see what you can learn.
The Activities Book is jammed full of things for you to do to help prepare before you start with us in September. You don't need to do all of it (there is lots there) but if you can print a copy and then dip into the bits you think might help, this will make your start in September even easier.
Frequently Asked Questions ...

How will I find my way around the school?
On your first day you will spend quite a lot of time with your form tutor and your tutor group before you go to any lessons. This includes a tour of the school and the chance to find out where everything is. Your teaching group will also be assigned some older students to act as your "buddies", collecting you at the end of each lesson and taking you to the next. You can also have a map to show you where everything is if you want one ... you can find one at the bottom of this page.
How can I find out answers to my questions about Minster?
Well, you're in the right place. Hopefully this section will answer some of our questions. If you go to one of The Minster Family Primary Schools, Miss Sanderson will visit your school to answer your questions sometime in June to talk to you. If you don't go to a Family School then you and your Parents or Carers will be invited in to visit The Minster School on a specific day in June to have your chance to ask questions.
Will I be able to visit Minster School before I start in September?
Yes! All new starters will be invited to an activity afternoon on Monday 26th June to have some fun and meet new people. New Starters will also be invited to a whole day at Minster on Monday 3rd July to