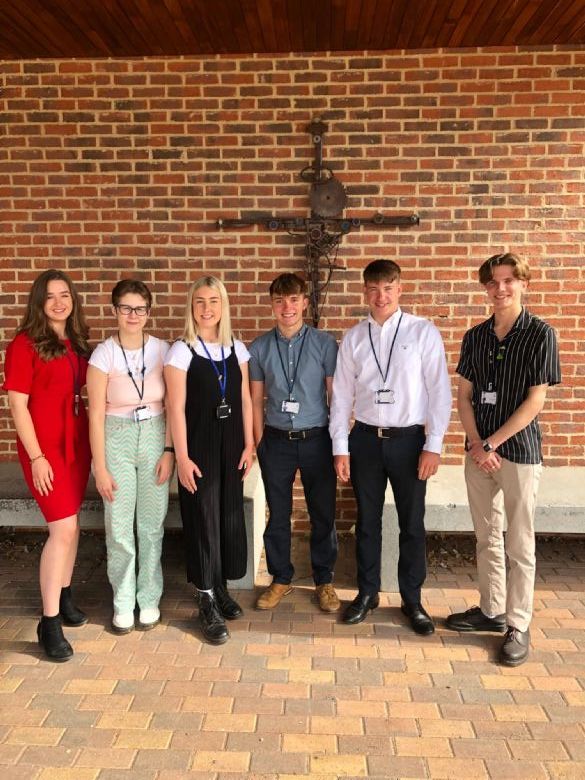 Welcome to Minster Sixth Form
"We are a head team made up of distinct personalities and interests which truly reflect the wide range of passions that are supported by our welcoming sixth form community. Each one of us is proud of the continuous determination to develop, displayed by both staff and students. We feel especially grateful for our opportunity to make further positive change in the school. Undoubtedly, the Minster School Sixth Form provides numerous enrichment activities to establish strong foundations to succeed in the future both academically and personally. After several years at the Minster School, we are excited for the opportunities that our final year will bring."
Head Team 2021-2022
Link to the online form for confirming your A Level options, requesting changes or informing us of your destination for September 2022.
Welcome from the Head Teacher - Ben Chaloner
Thank you for considering The Minster School Sixth Form as the destination for your Post-16 education. Each year we welcome back many students who have been part of our school community for a number of years, as well as meeting new faces joining us for the first time. It is this blend of students which helps make our sixth form an exciting and vibrant environment for you to excel in your studies.
We are proud to have a track record of academic success across all subjects. This is due to students making the most of the opportunities offered to them through high quality teaching and excellent pastoral care. When you become a member of our sixth form you will become part of a community where succeeding together is at the heart of all that we do.
Welcome from the Director of Post 16 Studies - Justin Samuels
Becoming a Sixth Former is an exciting time and in choosing the Minster School you become part of an inclusive community and aim to be the best you can be. It is pleasing that so many of you stay with us from the main school and it's great that our Sixth Form has a large number of students from schools across Nottinghamshire. As a Minster School Sixth Former, your experience is so much more than A Levels alone and our enrichment programme enables you to develop in leadership roles and participate in clubs, overseas visits and listen to visiting speakers.