A high-quality physical education curriculum inspires all students to succeed and excel in competitive sport and other physically-demanding activities.
It should provide opportunities for students to become physically confident in a way which supports their health and fitness. Opportunities to compete in sport and other activities build character and help to embed values such as fairness and respect.
Staff
Curriculum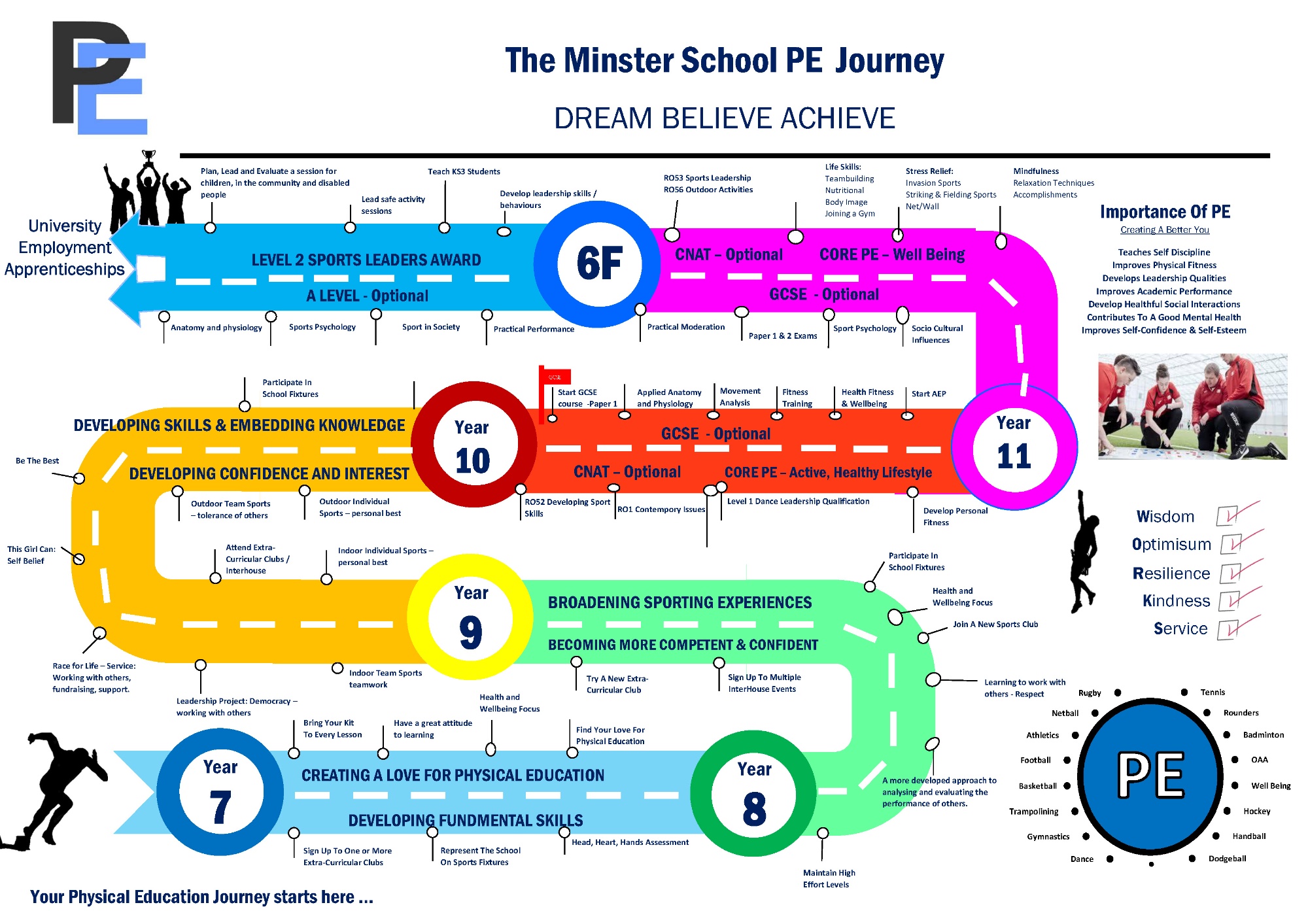 You can download a copy of the PE Learning Journey for the Minster school below.
KS3
In PE students undertake 2 lessons per week and rotate through sports including activities such as Badminton, Athletics, Dance, Gymnastics, Hockey, Handball, Striking Games, Outdoor Adventurous Activities, Netball and Rugby.
KS4
Core PE (All Students)
Students undertake one lesson of PE per week. Students have an element of choice in order to develop their knowledge, understanding and skills in preferred activities.
GCSE
In addition to core PE, GCSE PE students undertake two theory lessons and two practical lessons per week.
Board and Specification: OCR GCSE Physical Education (9-1)
Assessment Components
Year 11
| | |
| --- | --- |
| Examination | 60% |
| Practical Assessment | 40% |
Recommended Study Aids
My Revision Notes OCR GCSE (9-1) PE
Sports Studies
In addition to core PE, Sports Studies students undertake two theory lessons and one practical lesson per week. Students will develop an appreciation of the importance of sport locally and nationally, different ways of being involved in sport and of how this shapes the sports industry.
Board and Specification: OCR Cambridge National
Assessment Components
Year 10
| | |
| --- | --- |
| Examination | 25% |
| Practical Assessment | 25% |
Year 11
| | |
| --- | --- |
| Sports Leadership | 25% |
| Working in the Sports Industry | 25% |
Recommended Study Aids
Cambridge National Level 1/2 Sport Studies (Hodder Education)