Religious Studies at The Minster encourages students in their understanding of a number of issues regarding religious beliefs and practices as well as looking at issues that arise in the diverse society and world around us.
This is done in RS-specific lessons as well as through Citizenship and PSHE. Students have the opportunity to develop a number of skills including their own moral and spiritual beliefs, empathy and debate in order to analyse philosophical and ethical issues.
Staff
Curriculum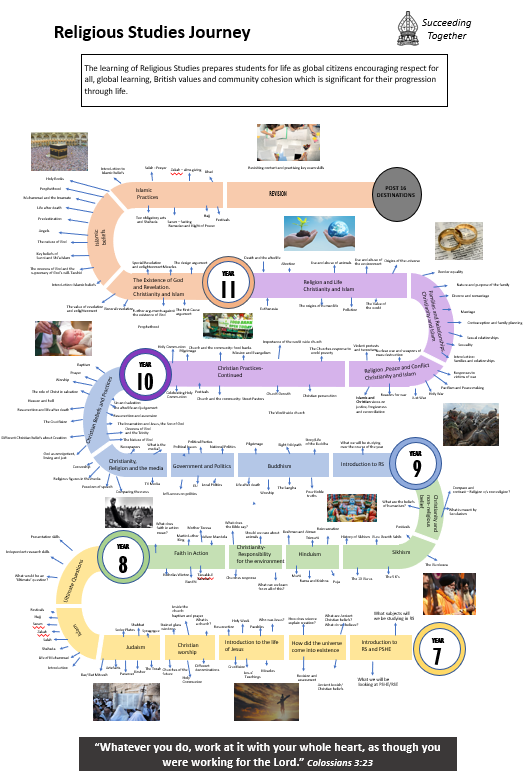 You can download a copy of the Religious Studies Learning Journey for the Minster school below.
KS3
In KS3, all students attend 3 lessons a fortnight. During KS3, students explore key elements of Christian beliefs and practices as well as looking at other religions such as Judaism, Hinduism, Islam, Sikhism and Buddhism. Citizenship topics include Government and Politics and Diversity and in PSHE we look at issues such as relationships, healthy bodies and healthy minds.
Visits and Events
Y7 students will take part in a places of worship trip to Leicester – approximate cost £10. Students will also participate in 'Humanities Day' in Y8, working in groups to explore policies for a post-Brexit UK.
KS4
At GCSE level, students attend 4 lessons per fortnight.
Board and Specification
AQA GCSE Religious Studies A (9-1) 8062
Assessment Components
(May of Y11)
| | |
| --- | --- |
| Christian Beliefs and teachings & Practices (Exam) | 25% |
| Islam Beliefs and teachings & Practices (Exam) | 25% |
| Thematic Studies: Relationships and Families, Religion and Life, The Existence of God and Revelation, Religion, Peace and Conflict (Exam) | 50% |
Recommended Study Aids
Revision Guide AQA Religious Studies A (9-1) Christianity and Islam
ISBN: 978-0-19-842283-9