It's good to be back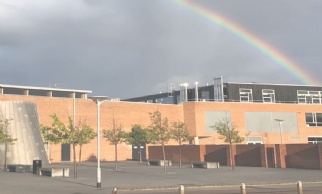 First week update
Dear Parents and Carers,
Finally, we have all our students back. It has been a busy few days, testing students for Covid-19, welcoming them back, updating them on school procedures and beginning their new timetables. I can speak on behalf of all the staff in saying that it has been a pleasure to see our students happy, engaged and enjoying being back.
I would like to take this opportunity to extend a warm welcome to our new parents. For some of you, our year 7 parents, it may have been your first child attending secondary school. I know how it feels – my eldest child has begun secondary school this September too – we will do all we can to ensure that they settle into school life as quickly as possible. We also welcome parents of our new sixth form students, especially those that are joining us from elsewhere. We know that your child will soon feel at home in the sixth form environment and, with hard work, flourish in their studies.
Tutor Groups
There have been some changes for students on their return and I will share these with you now. The biggest change that you have noticed from home is the change to tutor groups. Traditionally we have operated a vertical system – tutor groups having a combination of students from years 7, 8 and 9 or from years 10 and 11. These tutor groups were based upon the school houses – Clumber, Rufford, Thoresby and Welbeck. When we welcomed students back to school last year – September 2020 – we moved to year-based tutor groups in order to comply with the government regulations regarding 'bubbles'. These tutor groups had students from two houses and consequently the house system suffered. This year, tutor groups have been shuffled to ensure that they consist of students solely from one house, this will help to establish the house identity both for the student and the tutor. We know that in these tutor groups we will be able to ensure that the sense of community that the house system brings is reinvigorated. The houses underpin the sense of achievement, celebration, charity, and competition that makes The Minster School such a special place.
The Minster Way
During the 'welcome back' Acts of Worship with students I introduced The Minster Way. The Minster Way formalises eight expectations that we have for students in school. They are:
Be polite
Present ourselves and our work neatly
Have the correct equipment
Follow staff instructions
Treat the school buildings with respect
Move calmly around the school
Respect other people, their views, and feelings
Put litter in the bins
We believe that these principles are not only suitable for our school, but also for society as a whole. They will remind us of the way that we are expected to conduct ourselves, acting as guiding principles as our students develop into citizens of the world.
Positive Student Management
In this communication you will find a link to our Positive Student Management Policy – this is our behaviour policy. We have taken the opportunity to formalise many of the systems that operated in school over the last few years and make them explicit to you. Fundamental to managing the behaviour of students in the classroom in the consequence system. You will also find our procedures regarding uniform and lateness – these remain unchanged. We have added a system for anti-social behaviour. This is to be used to ensure that the school is always a safe and welcoming environment for students – especially at lunch, break and between lessons. We will use this system to challenge behaviour such as pushing or running on the corridors, play fighting, using the toilets as a social space, etc. it will enable staff to act with consistency ensuring that the students understand what acceptable behaviour is and what is not.
We have also reviewed our rewards system and rebranded this as recognition. We want to recognise more students for doing the right thing day in day out rather than just rewarding the exceptional. Students will be issued with WORKS points electronically and receive certificates throughout the year. The collection of points gains entries to the House Trophy raffle each half term. Further details can be found in the policy.
Positive Student Management Policy
Senior Leadership Team
In the newsletter at the end of last year, you will have seen that Mr Rowson and Mr Partridge have left The Minster School having secured promotions elsewhere. The senior leadership team now consists of:
Mr Chaloner – Head Techer
Mr Wall – Deputy Head Teacher
Mr Boothroyd - Deputy Head Teacher (2 days a week)
Mrs Lyons – Assistant Head Teacher
Mrs Zannetou - Assistant Head Teacher
Mr Price - Assistant Head Teacher
Mrs Mazurkiewicz – Assistant Head Teacher
Ms Blick – School Business Manager
We welcomed Mrs Mazurkiewicz to our school last week. She is an experienced school leader who has an excellent understanding of what it takes for children to be successful in their studies. Her brief with us will be to lead on Student Achievement – working with faculty leaders and teachers to support students in achieving the best outcomes that they can.
Pastoral Structure
Mrs Zannetou is now the pastoral lead. She is also the school's Designated Safeguarding Lead. She will be supported by Mr Brooks and Mrs Crone who have been appointed as Head of Key Stage 3 and Head of Key Stage 4 respectively. Each year group has a Pastoral Support Assistant (PSA) who has an oversight of the year group and, of course, your child will have a tutor. The structure for Key Stage 3 and 4 can be seen below.
*Mrs McHugh will be leaving The Minster School on Friday 10th September. Mrs Kelly will be acting PSA for Year 9 after her departure.
When communicating with school the first port of call should be your child's tutor. They will be best placed to deal with day-to-day concerns that you may have. All our tutors are also subject teachers so may not be immediately available but will respond when they can.
For pressing matters of concern, then your child's PSA should be contacted. They, hopefully, will be able to respond to queries sooner and resolve issues swiftly.
The procedures for attendance have not changed. If your child is absent, then please contact school via 01636 817366. Alternatively, you may use the following email attendance@minster.notts.sch.uk
We have maintained the one-way system that was introduced in June. I know for Year 7 it is an added complication as they navigate their way around the building. What the one-way system has achieved is an improved flow of students and a calmer atmosphere on the corridors.
I realise that there is a lot of information for you to absorb. We are establishing the new routines in school and, I know, that this will take time but ultimately it will save time. Students are at the heart of what we do, and we are driven by ensuring that they have the best education that they can.
With best wishes for the new academic year,
Ben Chaloner - Head Teacher