Exceptional GCSE results at The Minster School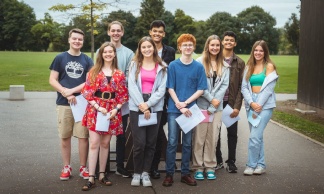 After the success of the Year 13 results last week, it has been the turn of Year 11 to celebrate their achievements. This cohort of students have shown resilience and optimism in the face of the pandemic, and we are so proud of the results that they have achieved today.
As a cohort, 87% of students have achieved a grade 4 or above in both English and maths and almost a quarter of students have achieved at least a grade 7 in both. These are exceptional results, and The Minster School would like to congratulate each and every student on these results and acknowledge their hard work in the run up to the exams.
Ben Chaloner, Head Teacher, said: "I am so proud of all our Year 11 students who have received their GCSE grades today. The last few years have been tough for them but the hard work and determination that they have shown has made the difference. The whole school community has pulled together to ensure that these young people have achieved their very best and I would like to thank parents and staff for the vital role that they have played. Ultimately, however, today is about the students and I congratulate them, wish them the best for the future and look forward to welcoming many of them back to our sixth form in September."