Triathlon returns to Minster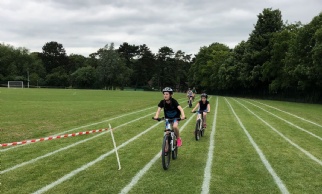 On Tuesday 19th June more than 130 students completed our school triathlon including a swim, cycle and run. What a brilliant event it was, promoting health, well-being and community spirit.
In partnership with Triathlon UK, Mr Towndrow worked with the PE department and a team of staff to reintroduce the school triathlon. As always, students and staff rose to the challenge together with more than 130 completing the challenging course. Thank you to the leisure centre for their support with the swimming.
The event was a great success and demonstrated many of the schools virtues, not least resilience!! Very well done to all who were involved.