Summer Concert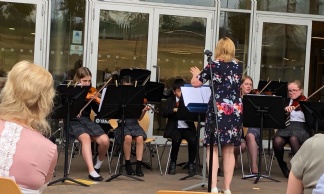 With the continued beautiful summer weather, our summer concert was staged outside in the amphitheatre for the second consecutive year.
The summer concert showcases the full range of musical styles and pursuits in school and affords some of our "next generation" younger musicians to perform. This year it was a pleasure to welcome new faces to the stage and to hear what they had to offer.
Highlights of the concert included performances from the string group, concert band, junior chamber choir, Ceilidh band and brass group. Individual performances also added to the programme, including a fine fusion rendition of "Hallelujah".
Thank you to all student performers, to the audience for their appreciation and to the music department for their efforts throughout the academic year.