GCSE Results Rise...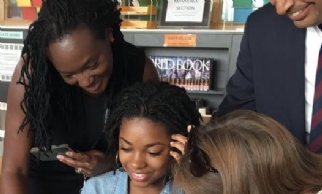 GCSE results rise in year of new tough qualifications at The Minster School
Many students will be celebrating today having received their GCSE results. This has been a challenging year for students and staff alike, with the introduction of new tougher GCSEs across a wide range of subjects, now awarded on a 1 to 9 scale, with a 4 the equivalent of the old C grade and a 7 the equivalent of an A.
Despite the challenges faced, the learning community at The Minster School worked hard to prepare well for the exams, with students supported not only by their teachers but also by families outside school. Once again, this combined effort has meant great results, with us succeeding together.
84% of students achieved a grade 4 or better in both English and Maths, up from last year with 80% achieving at least 5 GCSE passes including both English and Maths.
The average grade achieved by students was a 5+ and early progress indications show the school has scored well in terms of the value added based on targets for individual students, with many significantly exceeding expectations.
A student of particular note in terms of the grades achieved is Alice Ofield (from Woodborough) who achieved a clean sweep of grade 9s the new highest grade even more challenging than the old A*. It has been estimated that only a few hundred students nationally will achieve this feat.
Matt Lock (from Southwell) was thrilled with his results, having achieved a mixture of grades 8 and 9. He said "I am really surprised by my results as I thought some of the papers were challenging. I am particularly thrilled with my science results. I think my success was down to months of revision – I was working really hard from February to be ready for my exams." Matt will be studying History, Geography, Maths and English Literature in the Minster 6thform.
Morgan Godden (from Bilsthorpe) and Hollie Ballantyne (from Southwell) both achieved a top set of grades (all 8 and 9). They are both very happy with the success achieved and now have aspirations to aim for the very best Universities after their A Level studies. Morgan said "My results are so good I'm not even sure what to study at A Level. I thought it would be sciences but now it could be anything! I still aspire to attend Oxford or Cambridge in a few years, whatever the subject!"
Mr Parris (Head Teacher) said : "In terms of individual success it is important to recognise many students achieved very well against targets, which isn't always necessarily the same as achieving the highest grades. As a comprehensive school we are very proud of each and every student who shows resilience and wisdom (2 of our school virtues) to achieve their goals."