Legally Blonde a Triumph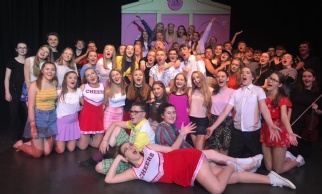 Six shows. Three Elles (Millie, Eleanor and Ella). Nine hundred audience members. Universally stunning reviews. Well done to all involved in the thoroughly professional, highly entertaining school production of Legally Blonde.
After months of effort, rehearsal and preparation, the Minster School's annual school musical production has now finished its run and, as always, the standard was first class, with a wealth of talent on show.
Congratulations and thanks to Mrs Chapman, Mrs Wallis-Windle, Ms Bilodeau and Mr Gibson, the production team of staff who worked tireless with students in the band, cast and technical crew to create a brilliant show.
The show presented its challenges with a difficult score handled with aplomb by the band, plenty of simultaneous singing and dancing, the need for excellent comic timing and frequent set, prop and costume changes. Well done to all and congratulations!