End of Term Christmas Fun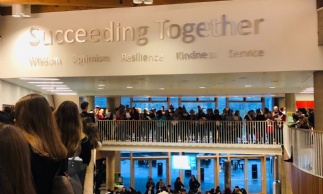 Happy Christmas from all at The Minster School. We reopen to students on Monday 7th January 2019.
The Minster School's last day of term was one full of festive fun and celebration (plus a Physics exam for year 11 - well done to them for working so hard until the very end).
There were Christmas jumpers a-plenty and more than £370 was raised for Children with Cancer as students arrived in the morning. Staff did their part too, singing Christmas favourites from the bridge to welcome students and establish the festive mood.
Thank you to all students, staff and families for their ongoing support of the Minster School and for an excellent term of hard work. We wish you all a Merry Christmas and a Happy New Year and look forward to welcoming students back to school on Monday 7th January 2019.