YEAR 10 GEOGRAPHY FIELDWORK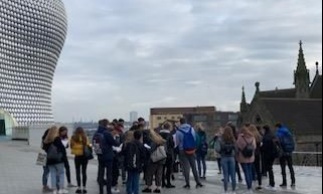 During January 2019, Year 10 Geographers visited Birmingham to examine the success of large-scale urban regeneration. Students visited a range of landmarks including the Canals at Brindley Place, The Mailbox, New Street Station and ended the day, examining the impact of The Bullring and Grand Central Shopping Centre.
Students gained first-hand experience of fieldwork methods, to prepare them for their exams; these included perception surveys, environmental quality indexes and land use mapping. Back at school, they are now processing and analysing their results to examine the success and sustainability of the regeneration. The students' behaviour, effort and enthusiasm throughout the day made them a joy to accompany. The Geography Department are very proud of them and their focus on fieldwork; well done!