Young Enterprise team continues our tradition of success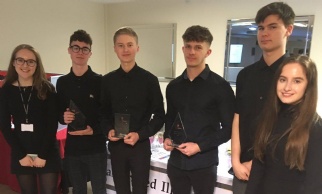 Please enter an introduction for your news story here.
Our Young Enterprise team 'Legacy' competed at the Area Finals on 26th March. We were greeted by Mansfield Town staff who gave us a tour of the grounds which was a great experience. Our team members Jacob Love, Sam Cawston, Eve Jones, Jessica Wright and Luca Sterling spent the rest of the late afternoon and early evening preparing their trade stall and getting ready to be interviewed by the judges.
Once judging had taken place a business pitch was delivered to the judges and
audience. The pitch was delivered with great confidence, accuracy and enthusiasm and the team were delighted to win prizes for 'Creativity and Innovation' and 'Best Customer Service'.
The team is through to the Nottinghamshire County Finals at The University of Nottingham on 8th May.