Joint schools concert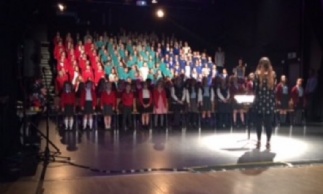 This Wednesday pupils from the Minster family of primary schools spent the day together, rehearsing in preparation for the Joint Schools Concert. The concert was a musical celebration enjoyed by audience and performers alike.
The Joint Schools Concert is an important annual event and a highlight of the transition activities undertaken to support year 6 pupils as they prepare to join The Minster School in September. After a busy day of rehearsals, preceded by time in individual schools learning the music, the concert was performed to a hugely appreciative audience of parents, teachers and supporters.
This year all the songs performed feature in musicals and the pupils sang with great gusto, thoroughly enjoying the genre. Thanks go to the Minster school students who supported throughout the day, including the fantastic live band. Thanks also to the music and primary staff who made the event such a success.