Outcomes - Great Results
The Minster School Sixth Form has a long tradition of achieving great results in examinations, the combination of hard work by students, support at home and excellent teaching in school. Last year (2018) our A level students achieved exceptionally well, placing the school in the top 10% of schools nationally for A Level results. Our results from this summer included the following :
77% of A level students achieved at least one A*- B as compared to 53% nationally.
71% of A level students achieved at least three A*-C grades.
97% of students achieved three or more A Level grades as compared to 77% nationally.
The average grade achieved by students at A Level was a B-.
Our most recent Ofsted inspection found us to be Outstanding:
"All aspects of provision were judged to be of the very highest quality and as a result students make outstanding progress. The school has done exceptionally well in ensuring high levels of consistency across all subjects and for all groups of students. This highly impressive picture applies equally to the sixth form"
Provisional A Level results (2018)

Average grade achieved of B- per A Level taken.

Average point score per qualification entry 36.9 as compared to the 32.4 national average.

Analysis places the school in the top 10% of providers for the A Level results achieved when considering the prior attainment of students.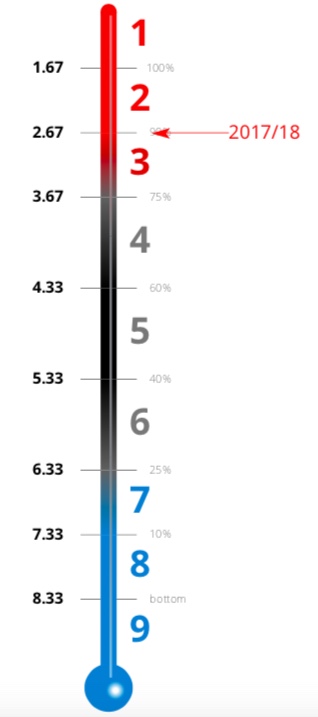 Published A Level results (2017)

Average grade achieved of C+ or B- for best three qualifications.
Average point score per qualification entry 36.77 as compared to a national average of 32.41.
99% of students completed their main programme of study as compared to an average of 96% nationally.
Progression

80% of students leaving the 6th form secured University places, with 33% of students going on to Russell Group Universities. One student went to Oxford to study History and Politics and four students went to Cambridge to study Modern and Medieval Languages, Human Social and Political Science, Music and Medicine.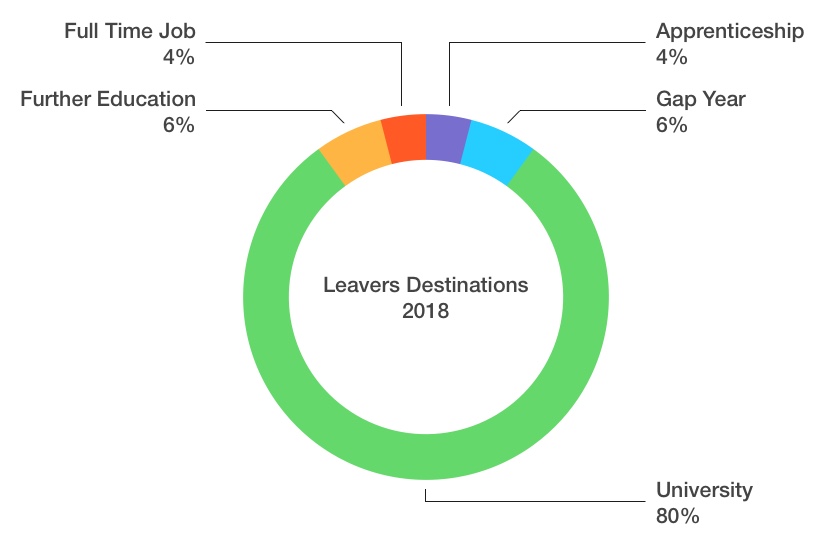 Retake GCSEs in English and Maths

Some students resit their English or maths GCSE in order to secure a pass grade while they are in the 6th form. This is a very small group of students who have timetabled lessons to support them in achieving their improved grade.
No students were required to resit their English GCSE
60% of students who resat their maths GCSE made an improvement as compared to 36% nationally