Vision and Values
Our school motto is "Succeeding Together" and this is underpinned by 5 key virtues drawn from Christian teachings, designed to include all in deep discussion about their individual development.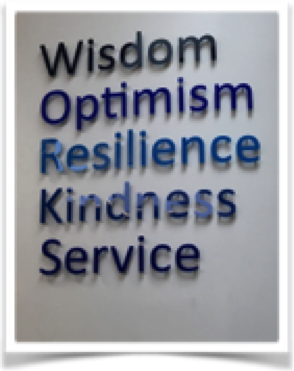 Elaborating further, succeeding together means enabling all members of our school community to work together, care for each other and strive to realise their potential in their studies and all other aspects of life.
We believe in providing opportunities for all to explore and develop their own beliefs and values whilst reflecting on the relevance of Christian beliefs to their lives.
We work together to create a culture in which students are proud of their achievements, are happy with who they are and feel supported by those around them.
We engender a sense of belonging for every student; to feel part of our community and to achieve their potential; to develop their character and to grow and learn together.
We create a culture where students can meet together and overcome the challenges presented by a desire to succeed and everyday life.
We encourage all members of our community to be positive role models, leading by example and inspiring others through their words and actions.
Five key virtues underpin our school ethos, displayed prominently in school and linked to everyday activity.
"Whatever you do, work at it with all your hearts, as though you were working for the Lord."
Colossians 3:23
Worship
Worship at the Minster School takes many different forms, each engaging members of the community with Christian concepts and the opportunity to pray and reflect. Acts of worship are inclusive and welcome all to consider what they might learn from Christian teachings.
Each week our students and staff come together for collective acts of worship, considering themes, current affairs and Christian teachings. Included is an opportunity for prayer led by students, who also lead some of the acts of worship in their entirety. School leaders, teachers and members of the chaplaincy team also frequently lead our acts of worship. Additionally students consider a "thought for the week" with their tutors, Each is linked to scripture and to current affairs and real-life examples, with discussion within the group promoted.
Other special occasions also afford the opportunity for worship:
End of term services in Southwell Minster are attended by all students in the school. These are led by students in partnership with the school chaplain and director of worship and celebrate Christmas, Easter and the end of the school year.
The school invites parents and students in the local community to attend an annual 'Foundation Service' in the summer term. This service takes place in Southwell Minster and celebrates the historic link between the school and cathedral.
All students are invited to a communion service each half term.These are very well attended and led by members of the chaplaincy team.
Confirmation preparation classes in school are led by the chaplain for those committed to explore their Christian faith further.Confirmation services take place in Southwell Minster.
As we are currently unable to gather for public acts of collective worship in school, we shall be producing and sending out a recorded 'Thought for the Week' which is narrated by one of our Worship team. This will reflect upon our themes and values and provide a common focal point for our school community each week. We ask that students and families take 5-10 minutes to listen to this during the course of their week and to reflect upon the thoughts therein. Whilst we can no longer gather in person to reflect and worship, we can still be united around our common values and reflect together upon the type of community that we are and are aspiring to be.
Cathedral Links
The Minster School is unique in its close links with Southwell Minster, the cathedral church for the Diocese of Southwell and Nottingham. The cathedral enriches the life of the school by affording opportunities for worship and support from the clergy, including our own school chaplain who works both at school and cathedral.
Most significantly, the school continues its heritage as the choir school for the cathedral with boys and girls who attend the school singing in daily acts of worship throughout the year. They also have the opportunity to develop their excellence in music with nationally renowned musicians, make recordings, go on international tours and broadcast on national radio.
Visit the Southwell Minster website to find out more about the cathedral - http://www.southwellminster.org/
School History
Minster School can trace its heritage back nearly 1000 years and has a long and fascinating history, closely linked to the cathedral.
The school is now a contemporary institution providing the best education to local children as a Comprehensive Church of England Secondary School but there is much to learn from the past, with tradition also an important part of the Minster School experience. To find out more about the Minster School's history, take the time to read David Hutchinson's 2010 account, attached below. It offers an intriguing insight into the past.