Design and Technology
Design and Technology gives our students the skills and abilities to engage positively with the designed and made world and to harness the benefits of technology.
Students learn how products and systems are designed and manufactured, how to be innovative and to make creative use of a variety of resources to improve the world around them.
Staff
Curriculum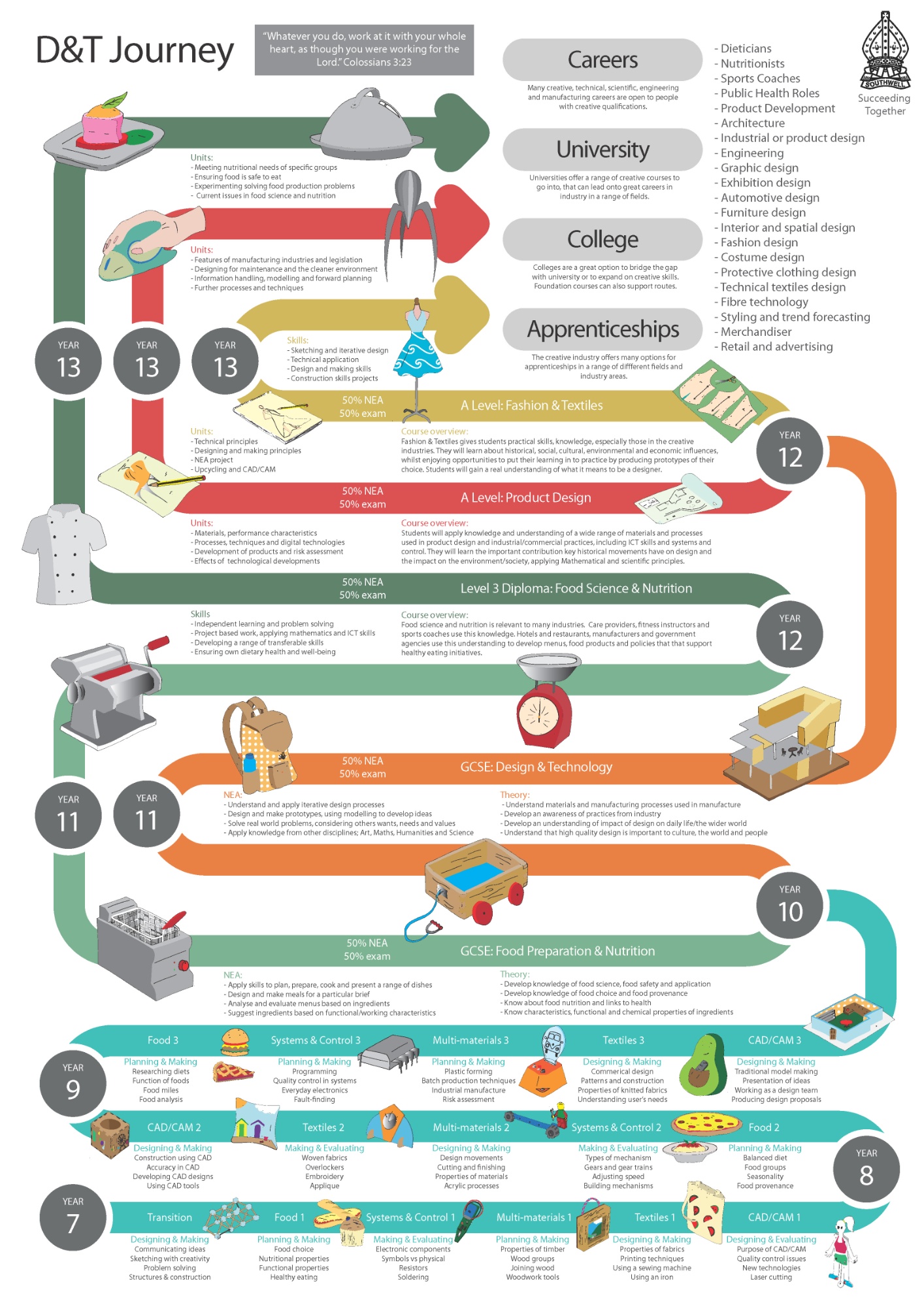 You can download a copy of the Design & Technology Learning Journey for the Minster school below.
KS3
At Key stage 3 students attend two lessons per fortnight rotating on a carousel through different material areas. This enables students to develop core skills in cutting, joining, combining, and finishing a wide range of materials.
KS4
At GCSE level, students attend 4-5 lessons per fortnight.
GCSE Design and Technology
Board and Specification
Edexcel Design and Technology (9-1)
Assessment Components
| | |
| --- | --- |
| Non Examined Assessment (NEA) (Written Coursework) | 50% |
| External Exam (Written Exam) | 50% |
Recommended Study Aids
Edexcel GCSE (9-1) Design and Technology Student Book By Andrew Dennis, Tim Weston , Mark Wellington , Jenny Dhami and Trish Colley
GCSE Food Preparation and Nutrition
Board and Specification
AQA GCSE Food Preparation and Nutrition
Assessment Components
| | |
| --- | --- |
| Non Examined Assessment (NEA) (Written coursework) | 50% |
Task 1: Food investigation (30 marks)
Task 2: Food preparation assessment (70 marks)
| | |
| --- | --- |
| External Exam (Written Exam) | 50% |
Recommended Study Aids
Grade 9-1 GCSE Food Preparation & Nutrition - AQA Revision Guide